Ultra-14 HP 3rd Member
Meet the strongest high pinion race diff on the planet, the Actual Game Changer.  Meet the Ultra-14HP.
The Super-14 is arguably the strongest aftermarket axle. What more could be packed into it to make it an ULTRA!
-THIRD MEMBER-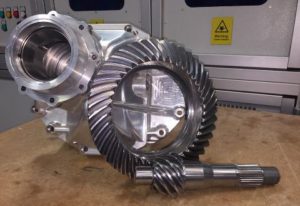 We designed a new drop-out third building off the Super-14 with the pinion in the High Pinion position.
Tweaks were made to the Third to minimize gear deflection from the different loads induced by a High Pinion gear set. Hours were spent putting the Third through its paces in rigorous Computational Stress Analysis.
-GEARS-
RING GEAR– The gears were designed to aerospace specs to be driven on the coast side as well as the drive side of the gear. Made from a proprietary high nickle – high moly alloy our Pro Gears are shot peened and REM polished. Each gear set is laser etched with serial number and backlash.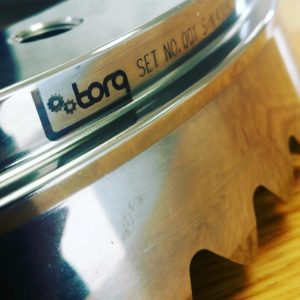 -PINION GEAR-
The Ultra-14 pinion has a 2″ shaft at the gear head with a 4″ bearing OD. The bearings have been spread by 1″ for better leverage forcing the pinion into the ring gear.
The pinion is cut to a 37 spline profile for compatibility with Dana 80 yokes.
-BEARINGS-
The standard Ultra-14 diff carrier bearings are upgraded from the standard 14bolt to 4-7/16″ OD bearings.
Inner Pinion bearing–2″ ID and 4″ OD. Outer Pinion Bearing–1-5/8″ ID and 3-3/4″ OD.
-PINION CARRIER-
To handle the larger bearings and bearing spread the Pinion Carrier is beefier and stretched with oil passages modified to hold oil on the stretched bearings.
The solid pinion spacer keeps the bearings in perfect placement. Four button head socket cap screws keep the counter sunk pinion seal solidly in place.
-YOKE-
Ultra-14s use the 37 spline Dana80 Yoke.
Why name it Ultra? This true 10.5″ High Pinion has set a mark not to be equaled. Every component is
the best and designed to work together building off each strength to give you the best High Pinion
differential period.
If you are interested in purchasing an Ultra-14HP please contact us:
801-298-1008
sales@torqaxle.com