Who runs Torq Axles?  Are they strong?  Does anyone race on Torq Axles?  Is Torq even race proven?  These are questions we hear once in a while.  If you've never hear of Torq chances are you may have some of these same questions.  Below you'll find details on racers and vehicles running Torq Axles.  We have also included videos to give you an idea of what our axles are built to handle.
Ben Swain
Ultra4 car Number #36
Torq Super-14's Differentials and fabricated housings Front & Rear
LS3
Hero Transfer Case
Jimmy's 4×4 Chassis
https://www.facebook.com/benswainracing

Joe Pierce /AKA the Maine Maniac
Big Power
Big Tires
Torq Super-14 Front Diff
Joe Pierce / LetzRoll Custom Chassis
https://www.facebook.com/wickedgood.racing


Ryan Bramhall / Hulk Buggy
"These are the strongest drop-in 14 bolts on the planet I run the hell out of mine"
LSX
Front and Rear Super-14 Diffs
Nitro Gear
https://www.facebook.com/Ryan-Bramhall-The-Hulk-Buggy-843169162380731
https://www.instagram.com/ryanbramhall41/
Ryan Runs the infamous "Backdoor" Obstacle in less than 30 seconds
Weston Anderson / Ryan Anderson AKA Bog Hog
This awesome Mega truck was built by Ryan Anderson (Son Uva Digger) who is literally Dennis Anderson's (Grave Digger) son.  As Ryan has moved on to his career as a professional Monster Truck driver his younger brother, Weston has taken the drivers seat of this truck and named it "Bog Hog".  This truck originally  ran a Merlin big block which was producing around 1600 horse power.  As Bog Hog the truck has been detuned to small block pushing 1000 horse power for Weston.
Custom Willys Pickup Mega Truck
1000 horse power
Super-14 front diff
https://www.facebook.com/dennisandersonsmuddymotorsportspark
https://www.instagram.com/boghogmegatruck/
Torquezillion / Aric Streeter / Love Fab
Pikes Peak Race Truck
Bonafied Torque Monster
Stay tuned for more…
Chris Brown / CB Motorpsorts
Custom CB Motosports Chassis
Super-14 Front Diff
http://www.cbm885.com/vehicles/4400.html
https://www.facebook.com/pg/CBMotorsports885
https://www.instagram.com/cb_motorsports/

Tom Liu
Jimmy's 4×4 Chassis
Super-14 Rear Diff
https://www.facebook.com/Tom-Liu-1669124926666988
https://www.instagram.com/ttmotorsports4402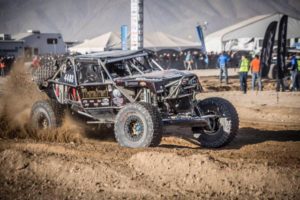 Kevin Yoder
Custom Yoder built Chassis
Pitbull Tires
Rear Super-14 Diff
https://www.facebook.com/kevinyoderracing/?fref=ts
The Torq Super-14 holds up when delivering power AND taking unplanned abuse!